Beginner Kickboxing Classes Enrolling In February

Do you want to shape up and slim down faster than ever? Are you looking for the ultimate cardio workout to help you achieve your fitness goals? If so, you'll want to check out the new Kickboxing classes at Kaizen Martial Arts located in Waltham Abbey, Felsted, and Bishop Stortfords. We've put together an intense, calorie-crushing workout that will torch away up to 800 calories with each and every class, quickly melting unwanted fat and give you the body you've always wanted!
Kickboxing is one of the fastest growing participation sports in the UK and our Kickboxing classes at our Essex Academies are quickly becoming a real focal point of our entire offering.
So why is it so popular? The answer lies in the fact that kickboxing combines karate with boxing, so you get the best of both worlds in one lesson. It is also one of the most physically demanding of martial arts and that means it does wonders for your fitness levels.
Kickboxing For Everyone!
We offer kickboxing classes to the entire communities of Waltham Abbey, Felsted, and Bishop Stortfords! Kickboxing is a fun way to keep students of all ages in shape! We provide Kickboxing classes to Kids, Teens and Adults!
The Kickboxing classes we run have been specifically designed to suit adults, children and families and we have created separate classes for each of the aforementioned groups to ensure that the class you attend is tailor made to your needs.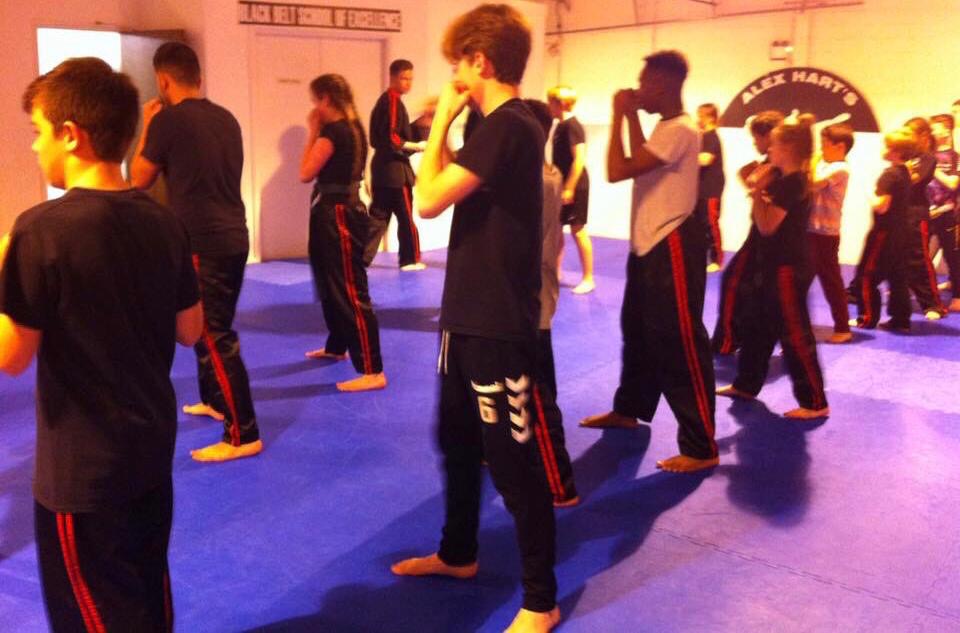 This Kickboxing class are as close as you'll ever get to a fountain of youth! In fact, these classes promise to get you toned, while sharpening your mind, too! Here are just a few of the exciting benefits you'll enjoy:
You'll learn critical self-defence skills that could someday save your life
You'll get a stunning body and the eye-popping muscle tone you've been craving
You'll experience remarkable focus and razor-sharp concentration
Your self-confidence and self-esteem will go through the roof
You'll drop unwanted weight and effortlessly slide into your favorite clothes again
You'll laugh away daily stress
Kickboxing is proving very popular with adult male/females, teenagers and children alike. If you are fed up with the run of the mill exercise programmes, then this is definitely for you. It is a great workout set at each individual's own pace that helps build strength, fitness and flexibility.
Take On The Best Kickboxing Classes With Alex Hart's Kaizen Martial Arts In Waltham Abbey, Felsted, & Bishop Stortfords
So, if you're looking for kickboxing clubs in the Waltham Abbey, Felsted, and Bishop Stortfords area you should fill out the short form on the side of this page to get all the information you need to get started in one of these incredible Fitness Kickboxing classes today!
Our Kickboxing Classes Are Located In
Waltham Abbey
Felsted
Bishop Stortfords