Martial Arts Classes In Waltham Abbey
Alex Hart KAIZEN is an award-winning Martial Arts Academy, offering one of the most comprehensive Martial Arts programmes in the United Kingdom. All Martial Arts Programmes are designed by Master Instructor & former 'World Champion' Alex Hart.
Staying with a workout is what most people find tough, especially without a coach or trainer. The Martial Arts programmes offered, will guide you towards greater fitness, confidence and discipline as you improve your balance, co-ordination, flexibility, self-defence capabilities and overall body strength and tone. It is a fun way to get and stay in shape, with a dynamic step-by-step Martial Arts workout coached by a Master Instructors in every class.
Martial Arts is taught from three academies: Waltham Abbey, Bishops Stortford & Felsted and in addition a Virtual 360° Training Group which is taught via Zoom.us webinar link with students grading through the syllabus globally.
For more information about Martial Arts Classes in Waltham Abbey, please fill out the form on the side of your screen!
The academies have comfortable and relaxing waiting rooms, for both parents and spectators. They facilitate two beautifully designed dojo's with purpose built matted flooring. Academy classes are run simultaneously, and all Martial Arts equipment is provided to develop the skills of the student. Due to Covid 19 heightened cleaning regime and sanitisation is in place including training in either bubbles or socially distanced. You can read more about this here: Protecting Our Students & Staff Through Covid 19
What Martial Arts Programmes Do We Teach?
---
Why Choose Karate Classes In Waltham Abbey?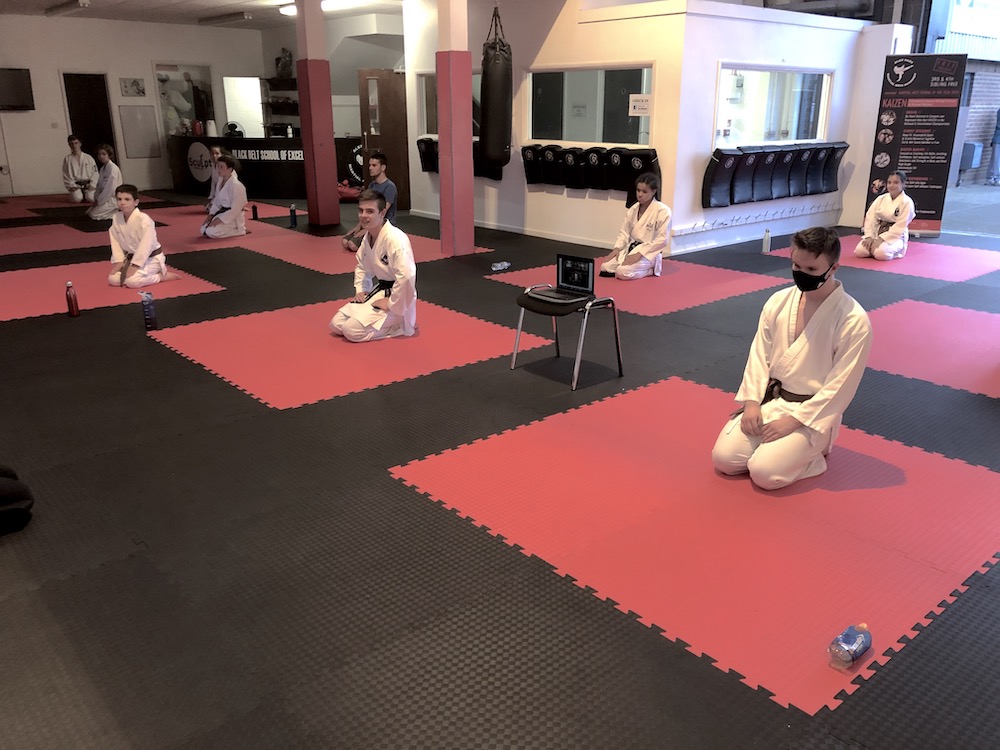 Karate is the most popular Martial Arts discipline in the United Kingdom, with many students starting their karate journey with Alex Hart KAIZEN from four years old, following the syllabus through to adult hood and beyond.
Whatever your reason for starting karate, we can guarantee you an improved sense of well-being, greater fitness and flexibility, improved self-confidence and even an understanding of general self-defence. Regardless of age or gender there really is something to be gained by everybody by taking up karate.
Alex Hart KAIZEN karate style is based on the Japanese style of Wado-ryu up to Black-Belt and then combines Shotokan, Shito-ryu, Goju-ryu & Wado-ryu as you further develop the craft.
Our black belt masters will show you how to defend yourself using nothing but your hands, feet and a burning desire to win!
Get In Incredible Shape While Learning Self-Defence Tactics
Starting with your very first class, we'll show easy techniques to gain control over your attacker, using powerful kicks and controlled punches. And as you master Karate techniques, with each new class, you'll enjoy dozens of extra benefits that only martial arts can give you. Here are just a few:
You'll effortlessly lose unwanted body mass and create toned muscle definition
You'll ward off body aches and pains linked with the effects of aging as you boost your cardiovascular system and range of movement with an intense blood-pumping workout
Your muscle tone from head-to-toe will refine, including sculpted arms, sculpted abs and flab-free legs
You'll master an entire range of life-saving self-defence moves
You'll notice your self-confidence and self-esteem reach stratospheric height
At Alex Hart KAIZEN, All Abilities Are Welcome
Our academies have adopted the KAIZEN approach. 'KAIZEN' is a Japanese word meaning continuous improvement. We have a proven method of success which stems from over twenty years of teaching in this way. By adopting the KAIZEN approach your fitness will improve in a gradual and methodical way, by just committing to training.
Light sparring is allowed from the rank of Yellow Belt onwards, this is carefully controlled with light touch contact only. You can find more information on equipment needed at this level in our AHK Shop.
THE BEST UK MARTIAL ARTS SCHOOL 2019
Alex Hart KAIZEN won 'UK Martial Arts School of The Year 2019', a UK wide competition.
You are in the right place, at the right time!
We promote good ethics, discipline and high standards. Sensei Alex Hart continues to teach across all academies with Master Instructors who are current or former England Team Members. You can Meet The Team here.
You can access our KAIZEN karate classes from Waltham Abbey, Bishops Stortford and Felsted. We also teach globally via our Virtual 360° programme.
Don't Delay! Get Started With Karate Classes in Waltham Abbey
These classes not only provide a great workout, but also a very direct approach to discipline, getting fit or becoming a master in your craft.
Please fill in our Martial Arts Booking Form and the KAIZEN team will be in touch. We look forward to welcoming you to our award-winning academy.

---
Heart Racing Kickboxing Classes Available in Waltham Abbey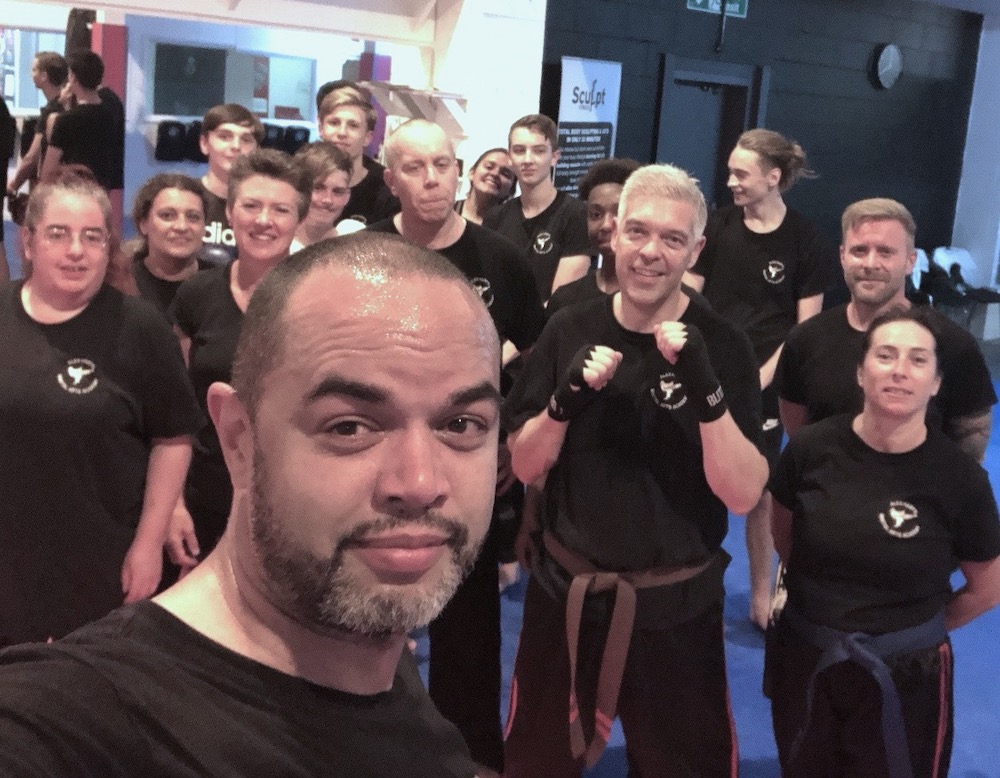 Kickboxing is one of the fastest growing participation sports in the UK, and our Alex Hart KAIZEN award winning classes have become a focal point with teenagers and young adults in our entire offering.
So why is it so popular? Kickboxing combines karate and boxing, so you get the best of both disciplines in one lesson. It is also one of the most physically demanding of martial arts, which works wonders on fitness levels.
We've put together an intense, calorie crunching workout which is designed to burn away up to 800 calories, creating muscle tone and definition, sculpted arms and abs and shedding any unwanted body mass whilst building muscle.
Kickboxing Is For All Ages And Abilities!
Kickboxing is taught from our purpose-built Waltham Abbey & Bishops Stortford Academies & within Felsted School. The syllabus is also available globally taught by Master Instructors via our Virtual 360° programme. Virtual 360° is taught by live webinar using the Zoom.us app. All you need is WIFI and your lounge or garden, with students grading globally.
THE BEST UK MARTIAL ARTS SCHOOL 2019
Alex Hart KAIZEN won 'UK Martial Arts School of The Year 2019', a UK wide competition. If you are a parent or carer looking for a Martial Arts Academy for your child, you have come to the right place. Our master syllabus is popular for teenagers, young adults and adults.
Children are taught from the age of 5 years to adult, split into ability and age range. We also offer Family Training and our family members and carers love the bonding time with their children, training together, laughing and succeeding together.
The first class is FREE, we would love to welcome you to our community!
What Are The Benefits Of Kickboxing In Waltham Abbey?
We promise to get you toned, while sharpening your mind. Here are some of the exciting benefits you'll enjoy:
You'll learn critical self-defence skills that could someday save your life
You'll work on a defined body and the sculpted muscle tone you've been craving
You'll experience remarkable focus and razor-sharp concentration
Your self-confidence and self-esteem will go through the roof
You'll drop unwanted body mass and effortlessly slide into your favourite clothes
You'll laugh away daily stress
Kickboxing is proving very popular with adult male/females, teenagers and children alike. If you are fed up with the run of the mill exercise programmes, then this is definitely for you. It is a great workout set at each individual's own pace that helps build strength, fitness and flexibility.
Take On The Best Kickboxing Classes With Award Winning Alex Hart KAIZEN In Waltham Abbey
Please fill in our Martial Arts Booking Form and the KAIZEN team will be in touch. We look forward to welcoming you to our award-winning academy.
---
What Is Our DINKY DUDES Programme?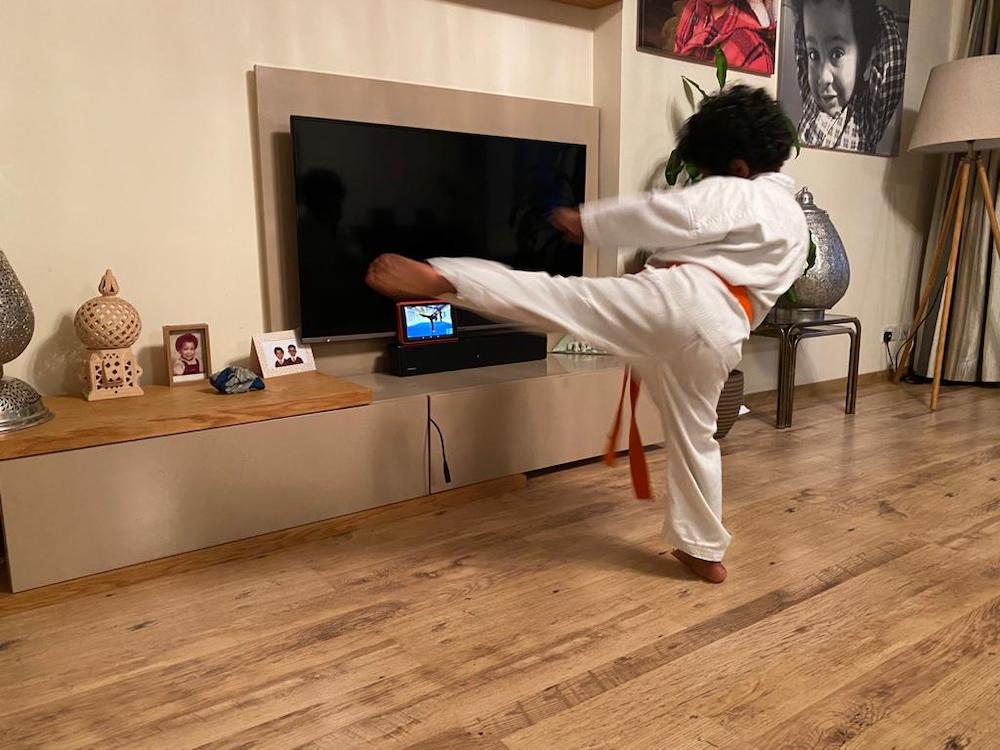 Nursery aged children have lots and lots of energy and then some more! At nursery age, children are developing their listening skills, learning how to follow instruction in a controlled way and sometimes need a little prompt to venture out of their shell's.
Alex Hart KAIZEN has built a nursery programme, from the age of 4 years to further develop these skills whilst learning the basics of karate and kickboxing.
The classes are small, a parent or carer is welcome to sit in to ease them into class, with the focus on fun exercises and listening and following instruction.
Many Dinky Dudes continue into Karate or Kickboxing from the age of 5 years onto adulthood. Sometimes, trying something new takes a few tries, our Dinky Dude's are able to come for three sessions for FREE to settle them in, and allow you the comfort of knowing they are in the right place and comfortable with the instructor and their peers.
Dinky Dudes may be nursery age, but they still grade through our syllabus. It is one of the most rewarding feelings, when their tiny faces light up and they collect their new coloured belts.
Please feel comfortable in our accolade 'Best UK Martial Arts School 2019' UK wide. We have your child's best interest and can't wait to welcome them to our award-winning syllabus.
Please fill in our Booking Form and the KAIZEN team will be in touch to book your child in.
---
A Family Who Trains Together Stays Together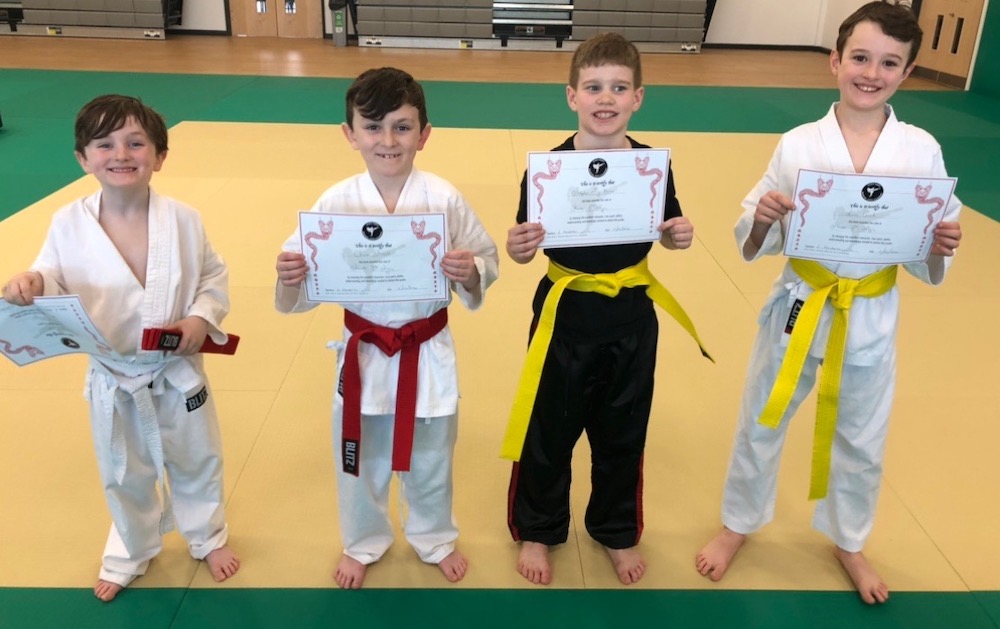 Family Training is for everyone. From age 5 years to adult. We teach with Master Instructors both Karate & Kickboxing, and is a complete mind, body and spirit builder. When the whole family trains together they achieve together. We love family training so much, and to show this love we have implemented FREE TRAINING for the 3rd and 4th + family member.
Time and time again, parents tell us about the positive changes they see, not only in their children but in themselves as well. The children start to see you, see your challenges and how you push through them, not just as Mum, Dad or carer. But as a human being, who is faced similar hurdles and challenges. You as a family, really get to set the bar.
Our Family Classes include all of the following:
A great workout that kids and parents will love
A boost in self-esteem as the whole family learns important self-defence and anti-bully skills
An appreciation for goal setting and plenty of positive reinforcement to ensure your effort matches your goal
Healthy activities that stimulate muscle growth and promote flexibility
Critical life lessons in coping with peer pressure and dealing with unwanted life pressures
Quality bonding and learning time with the whole family
We offer family classes that make it easy for your family to plug into fitness. Either from an Academy setting, or via our Virtual 360° programme.
Our Master Instructors are super friendly and excel at teaching students of all ages at the same time. We staff our classes with ample instructors to ensure every member of your family will get the personalized attention they deserve. REGISTER YOUR INTEREST TODAY!
Please fill in our Booking Form and the KAIZEN team will be in touch to book your family in.
---
Weapons Academy Training In Waltham Abbey
For master craftsmen of Black-Belt and above, we offer a Weapons Academy, hosted three times a year at our Waltham Abbey Academy.
The use of Weapons is an integral part of traditional Martial Arts training and one we fully embrace at Alex Hart KAIZEN.
In these sessions students begin by learning skills with the Rokushakubo (staff) and Nunchaku (flail). Other weapons such as the Tonfa (right angled baton) and Kama (sickle) are toght as students progress.
The twelve weapons recognised by the Association are: Bo, Nunchaku, Sai, Tonfa, kama, iyeku, Tekko, Tinbei, Nunte Suruchin, Kuwa and Shu-chu (from Tettchu).
The weapons classes are suitable for student who are Black Belt and above and can really take your training to the next level – greatly increasing your Martial Arts abilities, skills, coordination, balance, strength, flexibility and focus.
Please fill in our Martial Arts Booking Form and the KAIZEN team will add you to the registration list for the next Weapons Academy.
---
For More Of A Personalised Training Experience, Try Our Private Lessons!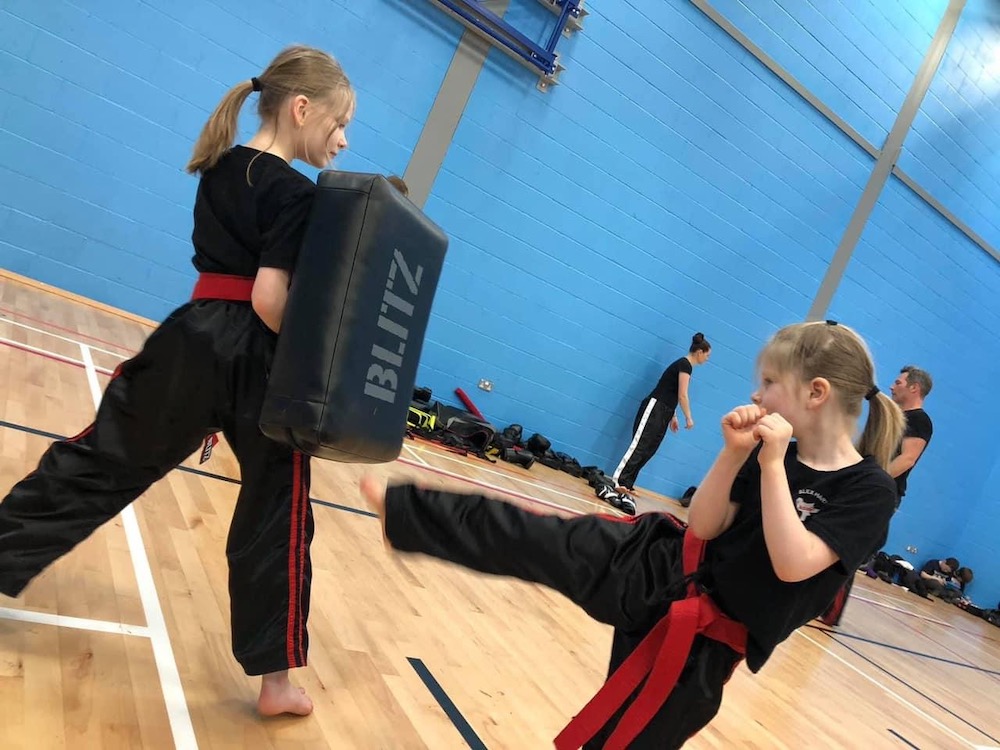 With Private Martial Arts Lessons in Waltham Abbey, you can strive to achieve your goals on a much more personal level. These sessions are based upon your personal development and will help you gain a deeper understanding of Martial Arts at Alex Hart KAIZEN.

Private Lessons offer something for everyone. For those seeking individual attention, an alternative to the set schedule, help with individual katas for a desired grading or if you're just looking for a way to increase your Martial Arts training.
We have students of all abilities from beginners who are not yet confident to join a class structure to Black-Belts, masters of their craft. Private lessons are hosted at all three academies: Waltham Abbey, Bishops Stortford & Felsted and also via our Virtual 360° programme, which is hosted via the webinar app: Zoom.us.
Please fill in our Martial Arts Booking Form and the KAIZEN team will contact you to discuss Private 1-2-1 Lessons.
---
Do You Want To Improve Upon Your Black Belt Training? Squad Academy Is For You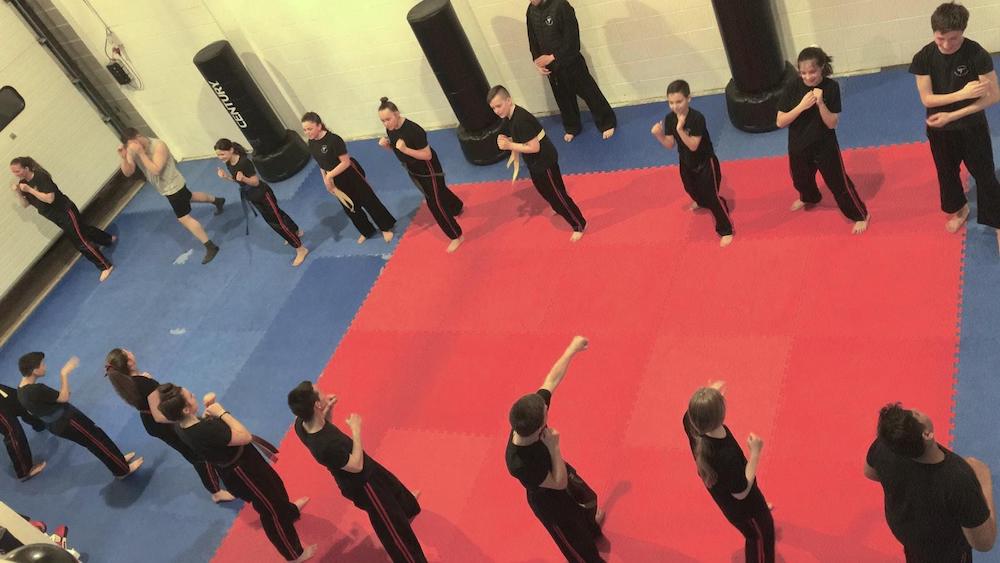 Our Squad Academy is by invitation only and is for the most committed students who excel and want to succeed. Alex Hart Kaizen won the accolade of the Best UK Martial Arts School 2019. Our Squad Team were hand selected winning competitions far and wide.
2020 has yet to see a new normal since the restrictions forced on The English Karate Federation (EKF), during the Covid 2019 pandemic.
Former Great Britain World Champion Alex Hart have created the syllabus which covers all aspects of competitions.
Competitions have been won in Karate Sparring, Kata, Kickboxing Points or Continuous Sparring. Our Master Sensei's are with you every step of the way for you to attain your set goal. Squad Members have access to GB qualifying tournaments, GB Squad Training, Elite Training Sessions. Sensei Alex Hart continues to teach across the Squad Academy with Master Instructors who are current or former England Team Members. You can Meet The Team here.
Our Martial Arts Classes Are Located In
Waltham Abbey
Felsted
Bishop Stortfords